Send Inquiry
Wire Mesh Filter Discs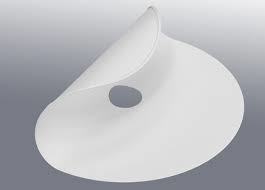 Wire Mesh Filter Discs
Product Code : 61
Brand Name : Sefar India
Wire Mesh Filter Discs are made of high grade stainless steel wire cloth for being strong and having compatibility with most acids & alkalis. They are widely utilized in chemical, food processing, and pharmaceutical industries. These discs have numerous micro size pores through which liquid is allowed to pass at predefined pressure for filtering. They can be availed in any shape and other configurations as demanded according to use. Wire Mesh Filter Discs is greatly admired for having ability to trap microorganisms present in various biochemical liquids.
Features:
Ideal to be used for heat sensitive liquids
High pressure bearing ability
Smooth edges with dimensional precision
Discs are flat and round fabricated parts. For instance sewn, with string, center hole, reinforcements etc.
(no stampings). Inside diameter in mm, order quantity per piece.
Depending on the fabric, dimensions of the fabricated article, specified tolerances and requirements
on the cut edges,heat cut or laser cut is done. Discs are packed in PE bags.
Small discs (up to approximately A3 size 300 x 420mm) The bags are sealed and labeled.
Large discs - Larger discs are prepacked in PE tubes and then packed in standard card board boxes.
Fabricated items will be provided with a SEFAR textile label
Applications where Filter Discs are used : Coolant/Metal Filtration & Automotive Sector.