Send Inquiry
Industrial Filter Components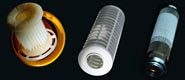 Industrial Filter Components
Product Code : 14
Brand Name : Sefar India
Filter elements
High-precision filter elements
for appliance, automotive, transportation and hydraulic applications -
Filter Components
Precise woven fabrics in superior weaving quality, based on advanced production technology, advanced hybrid filter solutions, providing best characteristics of woven and non-woven compound material provide best solutions to any filtration problem in industries such as appliance, automotive, hydraulics and transportation.

Typical applications are in household and industrial appliances, water technology, auto- motive applications, e.g. in fuel, diesel, oil and brake-fluid filters and hydraulic and aerospace applications, perfectly adapted to the specific filter performance of sophisticated advanced engineering solutions. Development process and Production according to ISO TS 16949 ensure superior quality, performance and innovation according to highest standards of the industries.
Automotive filters
Modern automotive systems increasingly depend on precision-machined parts and assemblies in their drive train and control systems. Maintaining good performance and long life of cars and trucks depends on keeping the fuel system and the lubricating and power transmission fluids free of particulate contamination. Sefar offers proven filter solutions for all fuel, brake, transmission, water and hydraulic systems.
Fuel filter
Fuel tank filters
Hydraulic filter
Filter for water systems
Ribbons
Fabrics can be heat- or ultrasonically-slit. Both slitting techniques ensure an optimally sealed, non-fraying edge quality. Ribbon width ranges from 7 mm to 2400 mm (heat-slit) and from
4 mm to 350 mm (ultrasonically-slit).
Shapes
Sefar fabrics can be provided pre-cut in virtually any configuration. Cold stamping is the most economical process and provides standard tolerance pieces with edges that may fray. Laser cutting provides high tolerance pieces with fray-resistant edges and ultrasonic stamped parts have sealed edges with high tolerance capability.
Household appliances
Appliance designers rely on Sefar's precision-woven fabrics to achieve maximum performance. Their high strength and precise mesh openings contribute to the appliance's consistent high-quality performance and durability.

Sefar offers the largest range of woven and fabricated appliance filters available. Sefar filter media are used as debris screens or lint filters, for example in dish washers, cloth dryers, water filters and coffee filters.
Dishwasher filter
Lint filter
Water filter
Coffee filter
Aerospace filter
Filters in aerospace applications are used in numerous applications such as removing water from kerosene, for filtering fuel and hydraulic oil as well as for sound suppression. Good water repellence, high throughput rates and precise mesh openings contribute to the outstanding reliability and performance of Sefar filter media.

Tightly-controlled production processes guarantee the precise fabric properties you expect from Sefar's products. Sefar's manufacturing is geared towards providing lot-to-lot repeatability for critical parameters.

An example of Sefar fabric use in the aerospace industry is in fuel filtration in-line separators after the coalescer.
Coalescer
Coalescer systems are used to remove water from jet and other types of fuels (e.g. diesel). The small and dispersed water droplets contained in the fuel combine at the coalescer surface (1st filter medium) to form larger drops which - by flow and/or gravity - move to the separator. The fuel then flows through the separator (2nd filter medium) where the now larger water droplets are retained by the hydrophobic fabric surface of the separator and are drained off.
Sefar offers a wide range of hydrophobic fabrics with high water repellency for use in coalescers. The good mechanical stability and permanent hydrophobic surface treatments of Sefar fabrics ensure a long and effective lifetime of the coalescer system.
Membrane preparation
Membrane systems incorporate fabric components in order to improve overall filtration performance. Due to its homogeneous woven structure, a fabric layer is an ideal spacer and drainage medium between membrane layers.
Because of their good mechanical properties fabrics are also often used as support layers:
a woven fabric is integrated during production into the membrane itself thereby increasing its strength and lifetime.
Membrane spacer
Membrane filtration systems require spacers between individual membrane plates in order to feed and draw the liquids that are being filtered. Sefar fabrics are excellent spacer materials. Their three-dimensional structure increases turbulence in the feed process, increases drainage performance and reduces build-up of solids on the membrane surface
Membrane spacers can be offered in different materials depending on the system requirements.
For chemically-aggressive environments or high-temperature applications Sefar recommends PEEK and fluorinated products.
Membrane support
The mechanical properties of thin membranes can be improved dramatically by strengthening them with a grid material integrated into the membrane itself. Sefar's woven, non-shedding monofilament fabrics with large open area are the ideal reinforcement media: these add strength and reduce swelling of the membrane while allowing high throughput rates.
Woven fabrics can be offered in a wide range of mesh openings, thickness and materials in order to suit each membrane type and environment. The adhesion between the membrane and the woven layer can be improved by modifying the fabric surface. Sefar offers several different effective surface treatments for all fabric types.
Trade Information
Payment Terms
Cash in Advance (CID)
Delivery Time
3 Days
Sample Available
Yes
Sample Policy
Free samples are available
Packaging Details
Corrugated Boxes, Wrapping, Wooden boxes
Main Export Market(s)
Asia
Main Domestic Market
All India
Certifications
Fabric Certificate, Inspection Report, Test Certificate, ATEX Certificate, Electrical Resistance Certificate, FDA Approved, GMP Approved