Send Inquiry
Industrial Disc Sector Covers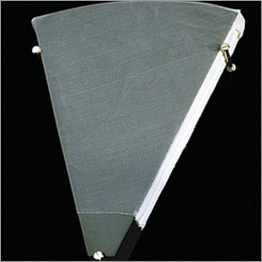 Industrial Disc Sector Covers
Product Code : 01
Brand Name : Sefar India
Industrial Disc Sector Covers find their most common application in pulp & paper industry for recovery of fiber from cellulose during paper recycling. They are greatly admired for having ability to bear both high and low temperature conditions. These covers are made from a special type of shrinkable material to assure easy fitting and compatibility with hot air when used in oven. Industrial Disc Sector Covers offered by us are also provided with a mono clipper on length sides to ensure easy installation.
Features:
Also provided with zipper closure
Good abrasion resistance
Highly durable
Disc Sector Covers :
Disc sector covers are bag type covers or filter segments for disc filters. For easy fitting they are made with a closure (for instance zipper or Mono clipper) usually on the length side or, in some cases, on the larger base side. Dimensions in mm, order quantity per piece.
The majority of segment covers is made from shrinkable material. This allows shrinking to fit with either hot water, hot air or in a oven. The main use is in the paper and pulp industry where disc filters are used for the fiber recovery from cellulose pulp and paper recycling.
Dimensions: Large side , small side, height in mm.
The segment covers are prepacked in polyethylene bags and finally packed in standard card board boxes.
Designs for segments with center seal, including rubber sealing gasket.