Send Inquiry
Health Care Products Filters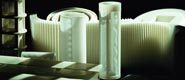 Health Care Products Filters
Product Code : 12
Brand Name : Sefar India
Healthcare products
Woven fabrics for medical and diagnostic devices. Filters for infusion sets, blood filters, fabrics for diagnostic test strips
Sefar offers the widest available selection of materials in many different weave types, finishes, coatings and fabrications.
High-quality raw materials, precision weaving and advanced fabrication capabilities in cleanroom environment, ensure exceptional lot-to-lot consistency and superior filter and diagnostic performance.
Sefar provides material in Medifab quality according to ISO norm 13485 and ISO TS 16949.
Continuous innovation, strong customer focus and our problem-solving philosophy have made Sefar the leading supplier of customer specific medical fabrics in filter and diagnostic applications.
Infusion sets
Transfusion sets
Perfusion filters
Venous/cardio filter, Arterial filters, Oxygenators
Diagnostics Test Strips
Dialysis filter
Ribbons
Sefar offers heat- or ultrasonically-slit ribbons. Both slitting techniques ensure an optimally sealed, non-fraying edge quality. Ribbon width ranges from 7 to 2400 mm (heat-slit) or from
4 to 350 mm (ultrasonically-slit).
Stamped discs
Fabrics can be provided pre-cut in virtually any configuration by laser cutting, cold stamping or ultrasonic stamping. Cold stamping is the most economical process, laser cutting assures high tolerance pieces with fray-resistant edges and ultrasonically-stamped parts have sealed edges with high tolerance capacity.
Disc diameters range from 6 to 95 mm.
Semi-finished components
Filter components can be combined with one or more adhesive layers that enable a cost efficient and fast joining of the filter component to any housing. Stamped discs can also be provided on a dispenser so that the discs can be transported easily, but the disc is free of adhesive as soon as it is rolled off the dispenser.
SEFAR MEDIFAB® filter fabrics are designed and manufactured to meet the stringent requirements of the medical industry as described by international regulations such as FDA 21 CFR.